Mark Wilson, A New Prayer for the Animals, Windy Hollow Books, April 2020, 36 pp., RRP $26.99 (hbk), ISBN 9781922081827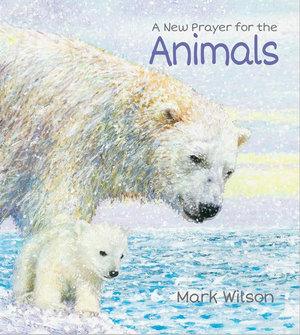 This narrative non-fiction picture book is a heartfelt celebration of author/illustrator Mark Wilson's passion for nature conservation. It introduces readers (4-10) to a selection of endangered animals from around the world and gives an enticing glimpse into their lives.
Each spread showcases a particular animal, such as green turtle, giraffe, polar bear and northern quoll. A short, lyrical narrative in present tense gives readers a snapshot of each animal's life history; what it is doing and sensing as, for example, it searches for food, lays eggs, migrates or escapes a bushfire.
A large illustration in Wilson's distinctive painting style takes up roughly two-thirds of the spread, immersing the reader in the story with a depiction of the animal in its natural habitat. The remaining third of the spread features the text, and a small box-illustration showing what that animal eats. The overall effect of each spread's layout is to subtly make readers aware of each animal's dependence on habitat and food for its survival, the connection between animals, plants and the environment, and that a healthy environment is essential for life on earth to flourish.
Back matter includes expository information about all the animals in the book. There's also an 'Author's Note' elaborating on the author's prayer, and a wonderful border composed of around 35 thumbnail illustrations of assorted animals, created by students.
Many species have already disappeared, while others, including the ones in this book, are on the very edge of extinction. If we act now, we may be able to help some species survive.
This poignant book introduces basic concepts in ecology, and may inspire further reading, research and, hopefully, conservation action.
Reviewed by Julie Murphy