Delphine Perret and Antony Shugaar (translator), A Bear Named Bjorn, Gecko Press, April 2020, 64 pp., RRP $24.99 (hbk), ISBN 9781776572694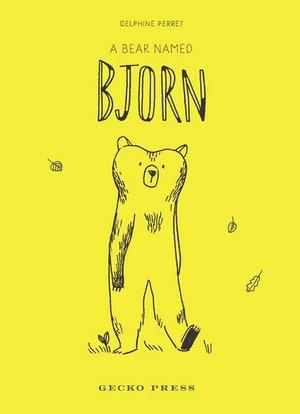 This book tells six short quiet tales of Bjorn the Bear and his forest friends. They live in the wild but have encounters and friendships with humans and have adopted many of their tools and traits. There's a bit of a Winnie the Pooh vibe about it, but with an Etsy rather than Disney aesthetic. The simple line drawings and handwriting-ish font on mint green pages give it a nostalgic feel, and the characters and stories are incredibly cute … but they're wryly written so it isn't at all twee. 
The humour in this book is softly slapstick and a little bit cynical— gently mocking of humans and their foibles. It has been a popular read while we have been stuck in lockdown at home. My boys (7 & 5) have read it several times and still get the giggles at Bjorn and his quirks. It's a little bit absurdist in its outlook, and they love it.  From an adult's point of view, it seems quite on-topic at this time, because it looks at objects with fresh eyes and highlights the happiness to be found in simple things. 
Snuggle up and read it because it's cute, and because it's one of those read alouds that can be enjoyed by adults differently. It's funny to see our follies parodied by a bear. 
Reviewed by Liz Patterson