Lucinda Gifford, Whitney and Britney: Chicken Divas, Scholastic Australia, October 2019, 32 pp., RRP $17.99 (hbk), ISBN 9781760666507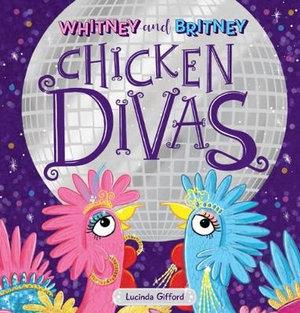 Whitney and Britney are two gorgeous chooks, fluffy and silky, with stunning good looks. So begins this fabulous picture book from Lucinda Gifford. Whitney and Britney live with a fox, the elegant Dora von Dooze. Dora wants to enjoy their company, but the chickens just sleep all day long. Which begs the question, what are they doing all night long? Dora eventually gets curious enough to follow them one night, and she discovers they are the Chicken Divas, performing at a night club in the city. It turns out that Dora has a surprise for Whitney and Britney as well, and they live more harmoniously for it.
This is a bright, loud picture book, bursting with colour, energy and movement. There is plenty of glitter and sparkle, especially in the night club scenes. Many librarians will be aware that this picture book has been selected as the official book of the National Simultaneous Storytime in May 2020, and with good reason. It lends itself to reading aloud and to fabulous dress-up opportunities. This book will be popular in primary school and public libraries, and in home collections everywhere. 
Reviewed by Rebecca Kemble