Jane Godwin (author) and Anna Walker (illustrator) answer some questions about their latest book Tilly. Thank you to Jane, Anna, and Scholastic Australia for this interview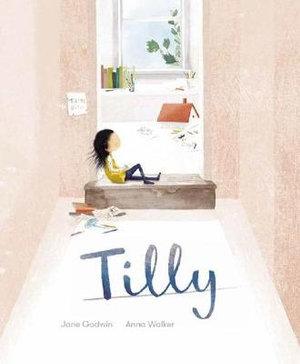 Jane's inscription reads 'To sister Cait who inspired the story". The unexpected hard twist that the carpeted step is never again uncovered smacks of realism… Is this a true story? Did her sister ever get that silver bell back? 
Yes, it's a true story – or inspired by true events, anyway. When we were kids, our youngest sister Cait's bedroom was in the attic of our house. There was a wooden step up to Cait's bedroom, and while we all thought the step was fixed to the floor and the wall, only Cait knew that it was freestanding and movable. She used to hide all her special treasures in the step, and none of us ever knew about it. Then, just like in the story, one day we had the house re-carpeted, and carpet was laid over the step. Cait's treasures were trapped! She never told anyone about this until she was an adult. There was no silver bell, that part is made up.
Which theme is most important – Finding wonder in small things OR coping with loss OR finding/not finding your voice? 
 The themes and ideas I was pondering while thinking about the true events and turning them into a story were definitely themes of loss, that although sometimes we can't physically reclaim the things (or people, or animals, or places) that we lose, they can live on in our hearts. I was also thinking about the idea of a child having a right to an inner life, and a right to keep a secret, and that this is perhaps the beginning of a creative life, of finding one's voice. A recent review of Tilly by a psychologist said that many children have a secret space, whether it is real or imaginary. These places play a key role in a child's development and retain a symbolic power that resonates throughout our adult lives. These are the ideas I was exploring in the story of Tilly.
Does Anna Walker compose her delicate watercolour shapes (for example the tree leaves) digitally or paint everything in its final composition? 
Some parts of the illustration have been composed and painted as you see them in the book, such as the leaves on the tree and children playing. But in some spreads, I have painted each of the elements individually and layered them together digitally, such as the hallway with all the tiny paintings, toys and children running. One of my favourite parts of the process is bringing the tiny individual elements together, it reminds me of playing with my doll's house as a child.
What other materials does Anna use in her illustrations? 
The main mediums used were pencil, watercolour and gouache. The background textures however were created using a mono-printing technique. Mono-printing can be frustrating at times but there are many lovely surprises using the combination of painting and printing, in revealing a spontaneous image that is unique.  
Read Liz's review of Tilly.