Christie Nieman, Where We Begin, Pan Macmillan Australia, August 2020, 368 pp., RRP $18.99 (pbk), ISBN 9781743535660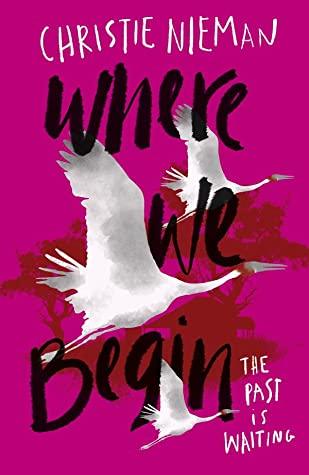 Where We Begin starts with a letter from Anna to her mother:
As you can see, I'm not here. I hope this isn't a big shock to you – it shouldn't be, if you're honest…
There are a few more lines, but typical of letters between close family members, scant detail. An intriguing puzzle for the reader. The first chapter sees Anna leaving on a night bus to a faraway place; we are not sure where. There is a sense of danger and dread and hope.
Nieman writes beautifully of both character and place, and creates tension and a sense of mystery. The story jumps around from that beginning, back to the near past, the far past, and some elements of the longer family history. Gradually, pieces fall into place, and the pace picks up. Indigenous characters and concerns are important to the story, and the author acknowledges permission given to use Dja Dja Wurrung words, and details consultation with Aboriginal community members.
Anna is in her last year of school and driven to excel – she is going to be a doctor. She has it all planned, even to the exclusion of friends and social distractions. But on day one of the school year, she meets Nassim, who just gets her. He supports her and charms her. They fall into a beautiful relationship, ruled by love and common sense, and Anna's goals. Finally, he convinces her to introduce him to her mother. What follows leads to her flight.
The journey takes her to her grandparents, whom she has never met. They seem lovely, if a bit odd, and Anna doesn't know why her mother has never been back since leaving at seventeen. Well, there is a lot that Anna doesn't know, and the narrative slips back to her mother, Cathy's, youth, gradually building a picture of those times.
Where We Begin is a book for older readers that covers much mature content, including violence and addiction. Many young people will relate to the family issues and confusing situations Anna faces. Racism, gender bias, and swearing are featured, as are indigenous displacement and disadvantage.
But don't be put off by what may sound like too many issues. This is a story with loads of heart and guts. The characters are flesh and blood. The complex, multigenerational family is its spine. Family violence and intergenerational trauma form the conscious and unconscious knowledge and experience of the characters. And complex, painful, baffling emotions rise and fall within each heart and soul. And there is much love and humour.
It's a great read. Highly Recommended. Where We Begin has been shortlisted in the 2021 Older Readers category of the CBCA Book of the Year awards.
Reviewed by Marita Thomson