Kirsty Murray (text) and Karen Blair (illustrator), When Billy was A Dog, June 2019, Allen & Unwin, 32 pp., RRP $ 24.99 (hbk), ISBN 9781760631826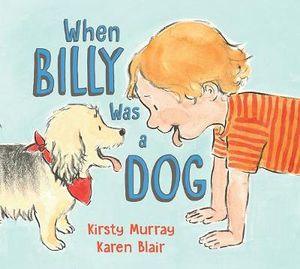 Billy is a pre-schooler who loves dogs and would love to have one of his very own. His promises aren't enough to convince Mum and Dad to get one, so he decides to become the pet he desperately wants. 
I'm sure my kids aren't the only ones who have done something similar. They go through a pretend play phase where they are a dog or a cat, or even a horse where they demand siblings or even parents 'ride' them (as we currently are experiencing). 
Billy is a lucky kid who has a very kind older neighbour, Mrs Banerjee, who does have a dog, Fluff, that Billy can play with. But it's different from having his own because eventually, Billy has to go home, and Fluff must stay at his home. 
As a book for young children, this is a solid story. Billy is a really sweet character who we feel for as we see how desperate he is for a pet. The illustrations have soft lines with bold colours, a combination of Freya Blackwood and Bob Graham.  
This lovely book, ideal for the 3-6 age range, does have a happy conclusion for Billy. If you're planning on giving your animal-loving child a dog this book would be a beautiful way to introduce the idea and build the anticipation.  
When Billy was a Dog is Shortlisted in the Early Childhood category of the 2020 CBCA Awards 
Reviewed by Cherie Bell