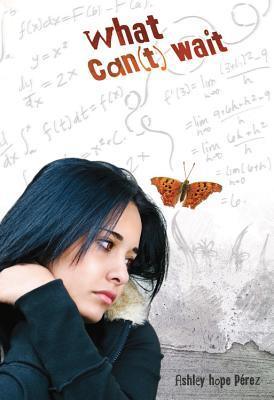 Ashley Hope Perez,  What Can(t) Wait,  Carolrhoda/Walker Books Australia, 1 June 2016, 234pp., $16.99 (pbk),  ISBN 9780761384991
Set in the American town of Houston, this story of Marissa, a talented teenaged mathematician born into a Mexican immigrant family, charts the relentless struggle against poverty and disadvantage that is necessary if she is to follow her dream.
Family responsibilities work against Marissa as she tries to study for university entrance exams. She must earn vital money to help her parents as well as babysit her beloved niece. The mistakes of Marissa's elder siblings are explored in the plot, demonstrating the possible futures in store for Marissa if she cannot break the cycle of poverty and ignorance.
Love, peer relationships and sexual attraction prove to be obstacles, as well as life-enhancing experiences, in Marissa's quest to organise priorities in her life.
The help of a supportive teacher revives a theme often seen in teenage stories. Ironically, Marissa's parents work against, rather than for, the progress of her education. She keenly feels the difference between her parents' attitudes to education and those she witnesses in the lives of other students.
Her need to respect and obey her strictly religious parents conflicts with the desire to escape and better herself through tertiary studies. Here, the difference between Australian and American social customs becomes apparent. The opportunity to take up a university scholarship requires her to also leave her home and family. A complete break with the illiterate father who can't accept her autonomy to make choices is required. Her mother, trapped in an unequal marriage, reluctantly comes to support Marissa's decision in a bitter-sweet ending.
A highly readable novel with good narrative pace and believable characters, offering an insight into cultural diversity and the problems faced by teenagers in growing up within restrictive social subcultures.
Reviewed by Julie Thorndyke