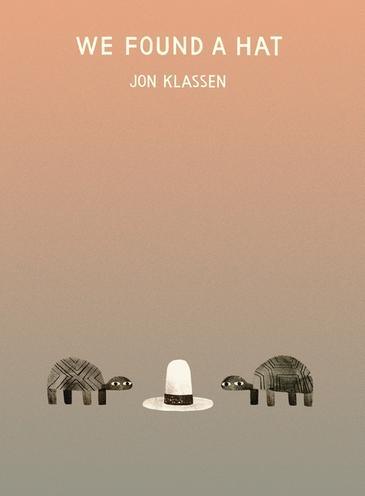 Jon Klassen, We Found a Hat, Walker Books, 1 Oct 2016, 56pp., $24.99 (hbk) ISBN 9781406347517
The third (is it really the last?) book in the highly acclaimed hat series by Jon Klassen sees a hat, this time, in the desert. Two turtles have found one hat. Because they are such good friends, they decide if one cannot have the hat, then the other cannot have it either. As they settle to sleep after watching the sunset together, one dreams a hat dream while the other eyes off the real hat. The friendship is tested with this hat.
There is no wasting of words in the hat books, and all follow a similar style of verbal text. This style is authentic and does not tire between the publications. The narrative of We Found a Hat, told in three brief parts, Finding the Hat, Watching the Sunset and Going to Sleep, is told entirely in duologue between two anthropomorphic turtles.
The use of colour is important in this book. Klassen seems to have limited the palette like he has limited the words, and the result is most effective. When many illustrators rely on the body of their characters and facial expressions to convey what they are thinking, Klassen uses the eyes: eyes looking towards the hat, longingly, back at the sleeping friend, guiltily, and the sleepy eyes almost about to close. The shape of the turtles is emulated in the round rocks and the shape of the hat in the cacti. All work together wonderfully. The verbal text is either placed above the double page spread illustrations, forming the top border, or on a blank page with a full-page illustration opposite. The last three double page spreads are wordless and cover the entire spread, welcoming the viewer into the night time narrative.
These are some of my absolute favourite picture books. I know the value of these books with a young audience; story time is lots of fun when these books are included. Suitable for a large audience to enjoy as a read aloud, or individual reading, this will be a hit with existing fans while attracting new fans. Highly recommended.
Reviewed by Liz Derouet