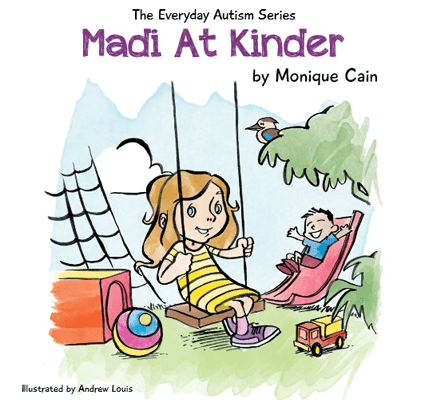 Monique Cain (text),  Andrew Louis (illus.),  Madi At Kinder (The Everyday Autism series),  3MT Media,  2016, 10pp.,  $12.95 (pbk), ISBN 9780994503701
Increasingly we hear of children on the Autism Spectrum so it is gratifying to find a series of books to help us engage and understand the world of the autistic child.  All children love to play, move about freely and enjoy the outside world however, for the autistic child, these simple pleasures can be both positive and negative depending on their ability to communicate and their comfort level with those around them.
In Madi At Kinder, author and mother of Madi, Monique Cain has provided a valuable insight into a world that can be overwhelming for a child with different needs.  This fourth book in the Everyday Autism Series, romps through Madi's day at Kinder where all the usual Kindergarten activities can become just 'too much' for a child who cannot find the words to express her feelings.
The straight forward language and bright uncomplicated illustrations have a strong visual impact which keeps the message simple and accessible however I did feel that the rhyming structure of the book forced the text to be less than effective at times by restricting the message.
Still, I was very pleased to be guided through Madi's day and be given the opportunity to view the world through another's eyes.  After all, any information that helps us engage with children – and they with us and each other – is a valuable resource and this series is sure to enlighten.
Reviewed by Jennifer Mors