Gary Lonesborough, We didn't think it through, Allen & Unwin, July 2023, 304 pp., RRP $19.99 (pbk), ISBN 9781760526931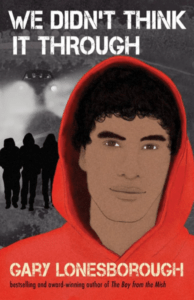 "The justice system characterises Jamie Langton as a 'danger to society', but he's just an Aboriginal kid, trying to find his way through adolescence."
Jamie isn't ambitious. Like many in the small town of Dalton's Bay, he's okay with just getting by and having a laugh with his mates. But Mark Cassidy and the white lads just won't leave Jamie and his friends alone. So, one night, fuelled by booze and pent-up anger, Jamie and his best mates Dally and Lenny decide to retaliate.
One ill-advised joyride turned car-chase later and the boys find themselves inducted into the youth justice system. Will Jamie have the courage to reach out and pull himself out of his current downward spiral, or will the current overpower and envelop him in an endless cycle of hurt?
Like many teenage boys, Jamie struggles to communicate his feelings or ask for help. Paired with low self-esteem, childhood trauma, and an explosive temper it's no surprise he lands himself in a lot of trouble. Having been placed into Foster Care with his Aunty Dawn and Uncle Bobby at a young age alongside his older brother Trey, Jamie has a complicated relationship with his biological family. When he learns that his father is terminally ill and his brother makes a sudden reappearance in his life, Jamie feels more conflicted than ever. After experiencing an up close and personal view of where his current trajectory will lead him, Jamie – with support – must make the choice to take the wheel and get his life back on track.
With strong undertones of the lasting generational trauma of colonisation and exploration of black lives in custody this eye-opening novel is extremely timely with the ongoing discussions around Voice and constitutional recognition. Doing what books do best, this absorbing novel allows readers to either empathise with an experience unlike their own or gain an important and empowering sense of representation.
We didn't think it through is a beautifully raw and eye-opening coming of age novel about a boy trying to navigate a world that isn't fair or kind, but that is ours. With some heavy themes and coarse language, yet valuable lessons, I would certainly recommend this novel to readers 14 years and older.
Extensive teaching notes can be downloaded from the publisher's website.
Reviewed by Libby Boas