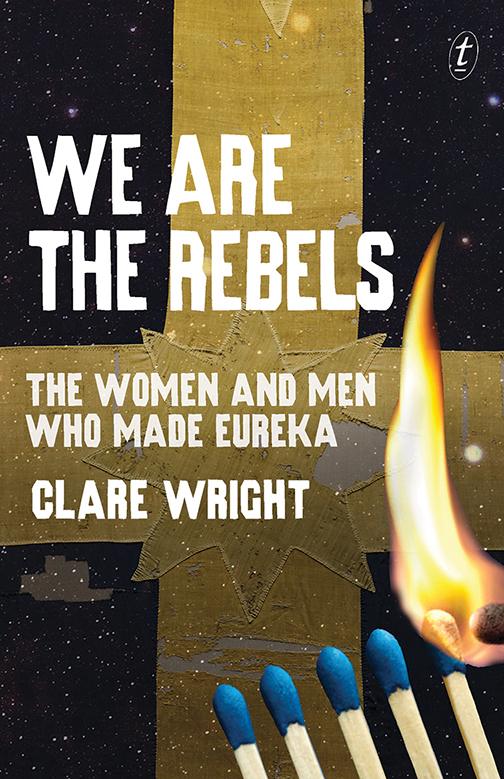 Clare Wright,  We Are the Rebels: the women and men who made Eureka, Text Publishing, 19 August 2015, 256pp., $19.99 (pbk) ISBN 97819221827
It's hard not to be inspired by this feminist revisiting of gold rush history. What schoolgirl could fail to be inspired by a woman who asks – where were the women in Ballarat in the 1850s? – and then puts on her history detective cap and finds them!
We Are The Rebels is a YA edition of Clare Wright's Stella Prize winning The Forgotten Rebels of Eureka. Invaluable for the secondary school market, not only is this a comprehensive telling of life on the gold fields, but it also creates opportunities to discuss how history is recorded. It seems strange to think that before Wright wondered about the women on the goldfields, they were almost entirely absent from reported history.
The book is broken up into easily digested bite-size chunks with break-out boxes on leading players with catchy monikers, important dates and family history. For example, Martha Clendinning, The Doctor's Wife, Not; Pioneer of the Pop-Up shop. Went into business with her sister as a shopkeeper on Ballarat diggings to support her family.
Wright quotes primary sources – letters, diaries, etc – to give a real sense of life in 1854. The impact of the Stockade on women is particularly poignant. There was the nameless woman who was killed by a trooper while begging for her husband's life, the feisty Clara Seekamp who took up the baton as editor of The Ballarat Times after her husband was arrested, Anastasia Hayes who attempted a secret communication with her husband while he was in the lock-up, and many others.
Teaching Notes are available on the Text Publishing website.
Reviewed by Heather Gallagher
* Clare Wright is a friend of the reviewer.