Ali Durham, Wacko!, Starfish Bay Publishing, July 2019, 36 pp., RRP $24.99 (hbk),  ISBN 9781760360733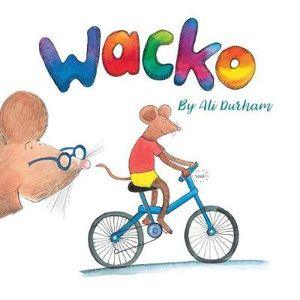 Wacko! is a gorgeous celebration of growing up with a grandparent and sharing the joys of childhood. Ali Durham has lovingly captured the moments of boastful pride as we follow a little mouse's big steps through childhood. Each time they learn something new, they simply burst at the seams, eager to beckon with the catch cry 'Look, Grandpa! Look!'
The real gem here is that Grandpa's enthusiasm never falters, his delight at seeing his little grand-mouse grow and learn is contagious.
As a reader, this book is simply delightful, with the stanzas refreshingly rhyming and making it easy to not only read aloud, but to hear. A must read for the early years, who will be reading along in no time, with Durham ensuring they know when to say the next 'Wacko!' Colourful illustrations feature on each page, engaging and adding to the story.
For early readers in Primary School, the large format text is easy to read, and with many repeated phrases on each page. Many of the rhymes are sure to get a laugh, too.
Look, Grandpa! Look!
I have underpants on.
I can sit on the potty
now my nappy is gone.
WACKO!" said Grandpa.
"I call mine 'jocks.'
I like to match them
with my socks!
Wacko! is sure to make a lot of young readers smile. A good one for any Grandparent's Day celebrations throughout the year, it's sure to get a big Wacko! of its own.
Reviewed by Belinda Raposo