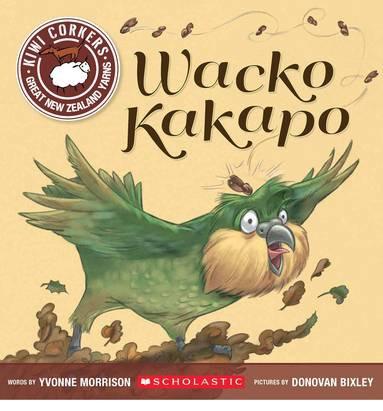 Yvonne Morrison (text) Donovan Bixley (illustrations).  Wacko Kakapo, Scholastic (NZ), 1 June 2014, $NZ 19.50(pbk),  24pp.,  ISBN 978-1-77543-256-2
Part of the Kiwi Corkers series whereby "traditional" folktales are given a kiwi twist, Wacko Kakapo is a retelling of the English folktale "Henny Penny." In this retelling, it is Wacko Kakapo (kakapo being an endangered species) who experiences a winded seed from the giant kauri tree falling on his head and coming to a conclusion that the sky is indeed falling.  He runs off in search of Tāne Mahuta (a giant kauri tree in the Northland forest known as the Lord of the forests, named after Tāne (the Māori god of forests and of birds, and the son of Ranginui and Papatuanuku, the sky father and the earth mother). As Wacko Kakapo runs off in search of Tane Māhuta, he is joined by other creatures all bringing their own skills; Peewee Kiwi, None-truer Tuatara, Go-getter Weta, Never-fear Kea , Quick-as-a-wink Skink and Gotta-gloat Stoat.  You can recognise the trickster here and so the team are captured by the stoat who gloats that he is hungry! But a team is a team, and in contrast to the traditional English version, the dream Kiwi team beat the stoat that gloats.
The illustrator cleverly employs a range of techniques and images to increase the drama (and hopefully evoke a bit of fear of the monster) through, for example on page seventeen, the use of confrontational frontal perspectives,  hovering shadows,  exaggeration and icons (like skulls). Teachers in the middle school could use these Kiwi Corker texts as a model for children's own attempts at bringing a local perspective of a traditional tale in their own writing. To this end, an exploration of national identity icons could be an opening of an integrated inquiry unit leading to a myth, legend and folktale literature focus. Recommended.
reviewed by John McKenzie