Rory H. Mather (text) and Jesus Lopez (illustrator), Vlad's in Love, Larrikin House, April 2021, 32 pp., RRP $24.99 (hbk), ISBN 9781922503053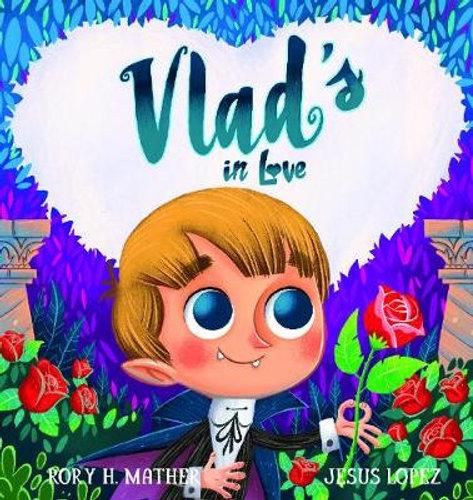 Vlad's in Love is a picture book story with a light-hearted approach to the awkwardness and nerves of experiencing a love crush.
Vlad is a little (very cute) vampire who refuses to go to Monster School for fear of revealing his feelings for a new classmate, Peggy Sue. Vlad's worries are eased after confiding in his friends, Frank (short for Frankenstein) and Keith (a fox) and discovering that they too grapple with a crush on a pretty girl. When friend Edwina wisely advises the boys – "Well just be nice, be yourselves, is my advice" the boys gather their courage to reveal their feelings to the girls. But how will the girls respond to their approaches?
The story is told in rhyming couplets with a lovely bouncy beat, promoting the tone of playfulness. Bold, bright, digitally produced images fill the pages conjuring a Disneyesque make-believe world with a cartoon, animation feel. The monster characters are far from scary. Instead, their huge cartoon style round eyes and round faces make them cute and appealing.
This book is lots of fun with vibrant illustrations, for families to enjoy with 4-7 year olds, and explore its highly relatable themes of friendship, social awkwardness and fear of rejection.
Reviewed by Barbara Swartz