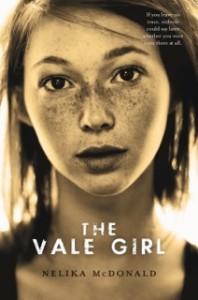 McDONALD, Nelika The Vale Girl Pan, 2013 309pp $29.99 pbk ISBN 9781742612423 SCIS 1627490
This is a thriller about a 15 year old girl who goes missing in a small Australian town to the almost complete apathy of the people of that town.  Sarah Vale is the daughter of the town prostitute and therefore her disappearance is considered of less interest than the upcoming Grevillea Festival and the lucky girl who might be crowned Grevillea Princess that year.  Only two people appear to be concerned about her fate: the resident police officer Sergeant Henson and Sarah's only friend Tommy, who is the one who reports her missing.
The themes covered in the book include sexual longing, sexual harassment, bullying, addiction, dealing with grief, domestic violence, stereotyping, cowardice and cover up in the face of evil and children who care for parents who are incapable of caring for them.  The Vale Girl is included in the 2013 Top 50 books You Can't Put Down – and is suitable for young people aged 15+.
reviewed by Katy Gerner