Stephen & Lucy Hawking, Unlocking the Universe, Penguin Books Ltd., January 2020, 432 pp., RRP $26.99 (pbk), ISBN 9780241418864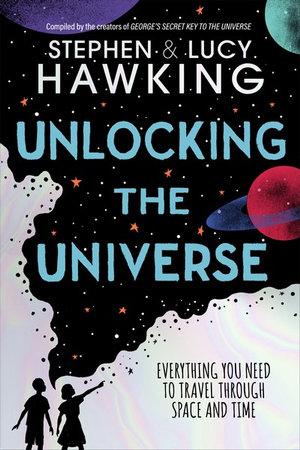 Don't be put off by this 400+ page information book on the science of our universe!
This book is divided into seven parts, each explaining a different aspect of space science and written by a variety of astronauts, scientists and  professors who go to great lengths to make the complicated science more easily understood.  Some of the chapters are written as explanations; like Professor Stephen Hawking's description of "Getting out of a Black Hole" … surprisingly readable, ending with: "You can get out of a black hole!" (p. 214). Other chapters are written with an imaginative slant, such as that of a Space Industry Professional describing what her birthday may be like if she was living on Mars.  There is information about the historic moon landing and life in the Space Station as well as conjecture about whether wormholes could ever be used for time travel.  
Part Seven looks to the future with descriptions of the fun of creating robots and the interesting problem of what to do when they run out of power. There are interesting insights into the ethics involved with robots and the move to driverless cars and finally the book ends quite abruptly with a brief amount of information on several contemporary issues: planet damage, people power, traffic of the future, the Internet, Privacy and Climate Change.
The overall layout of the book is quite engaging with short chapters, written by differing authors, under the broad themes of each of the seven parts. There are plenty of black and white illustrations scattered throughout assisting the comprehension of the text. The language is scientific, yet not tightly packed with detail.
Upper primary students may like to dip into this book satisfying their curiosity for space science information. Teachers may like to use certain chapters as read alouds to spark interest in a variety of topics which may not necessarily directly relate to space science. (e.g. Part Five contains a description of Earth by an International Space Station Astronaut as he orbits and realised how fragile our planet is.) A useful addition to any library catering to upper primary or lower secondary students.
Reviewed by Veronica Forsyth