Lisa Harvey-Smith (text) and Mel Matthews (illustrator), Under the Stars: Astrophysics for Bedtime, Melbourne University Press, October 2019, 182 pp., RRP $39.99 (hbk), ISBN 9780522876086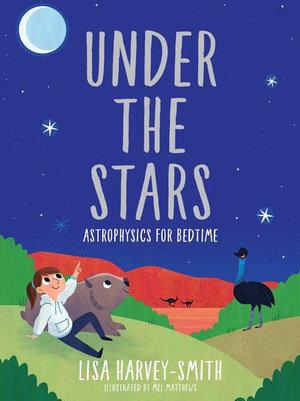 Lisa Harvey-Smith is a British-Australian astrophysicist, Australia's first Women in STEM Ambassador and Professor of Practice in Science Communication at the University of NSW. She has also been awarded the Eureka Prize and has worked for the CSIRO. In addition, she has been a commentator and broadcaster, so she is eminently qualified to write about the fascinating topics of astronomy and astrophysics.
Not all scientists can write about their area of expertise so that young readers can understand the concepts involved without oversimplifying or 'dumbing down' the content. This book is extremely well-written and is an excellent 'primer' for both primary-aged children and the adults in their lives. The subject area is divided up into broad subdivisions which cover the earth, the solar system, extrasolar space, the Milky Way and the universe. Within each area there are several short chapters, no more than three pages long, on specific topics such as gravity, each planet in the solar system, pulsars, quasars and black holes. Each chapter really could be a bedtime story!
However, while the illustrations are beautifully done providing colour and humour with amusing details such as faces on the planets, they do not give accurate factual information. It may be that when the text makes statements such as You can sometimes see the International Space Station passing high overhead. It looks like a really bright star that is moving steadily across the sky that a photograph may have been more relevant. There are other sections where photographs instead of illustrations also may have better augmented the text.
While I am reluctant to argue with such an eminent scientist, my two minor quibbles are worth raising. On p. 83, the text states that… on earth, carbon dioxide makes up only 0.02 per cent of our atmosphere, whereas reputable organisations such as NASA claim that it is 0.04%. In addition, to state that the earth and the sun are the best of friends imparts anthropomorphic emotions to two astronomical bodies. These are small inconsistencies in an otherwise excellent book.
Reviewed by Lynne Babbage