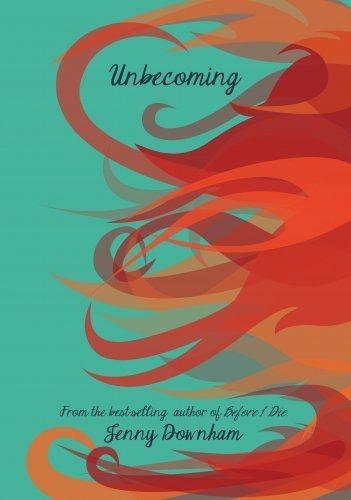 Jenny Downham, Unbecoming,  David Fickling Books,  1 Oct 2015,  256pp., $19.99 (pbk),  ISBN: 9781910200728
Jenny Downham is the author of two other novels, Before I Die and You Against Me, both dealing with topical issues facing teenagers in realistic and powerful ways. So it's no surprise to see that Unbecoming is both readable and emotional.
While teenager Katie is the main character, the other two women in the story, Katie's mum, Caroline and her grandmother, Mary, are both just as significant and are explored in as much detail. These three generations have lots of secrets from each other, and it's a race against time to discover Mary's before dementia takes its awful toll.
Downham's style is easy to read. She captures Katie's confusion about a grandmother she knew nothing about, and her subsequent frustration at her mother's hostility and silence, in a stark and honest way. Katie's own gentle treatment of Mary and her positive actions to help Mary remember, are at odds with Caroline's fear and resentment. Katie sets out to solve the mystery of why they are estranged, and in doing so, confronts her own secrets, and eventually realises honesty is the only way to move forward with her relationship with her own mother.
This novel is long and complicated, but it never dragged or lost its way. Flashbacks to Mary's life as young woman cleverly illustrate the struggles girls faced in the post-WWII era, of expectation and gossip. Mary's sister, struggling with her own secret desires, sets the pair on a journey that ultimately impacts most significantly and negatively on Caroline.
Downham also includes other issues, but never in a strident or exploitative way: Katie's brother has learning difficulties; Caroline's husband left her for another (younger) woman; and Katie herself, struggling with her sexual orientation, bullying and toxic friendships – these elements weave almost seamless through the narrative, building a full picture of both Katie's circumstance and of her family's.
While the target audience is older teens girls, it's also going to be an easy sell to older females, so hand it over to your keen staff readers, and see what they think. Actually, I was reading this on a plane, and my 19-year-old son read alongside me. We obviously didn't finish it over a two-hour flight, but he picked it up later, so he could read the end for himself. So don't discount boys either. Fortunately, its (Australian) cover isn't going to turn them off straightaway.
There is minimal swearing, any sexual content is off-page, and the ending is realistic and happy(ish). Highly recommended as a terrific read about the way families hurt each other, and how to mend the hurt, and find forgiveness.
Reviewed by Trisha Buckley