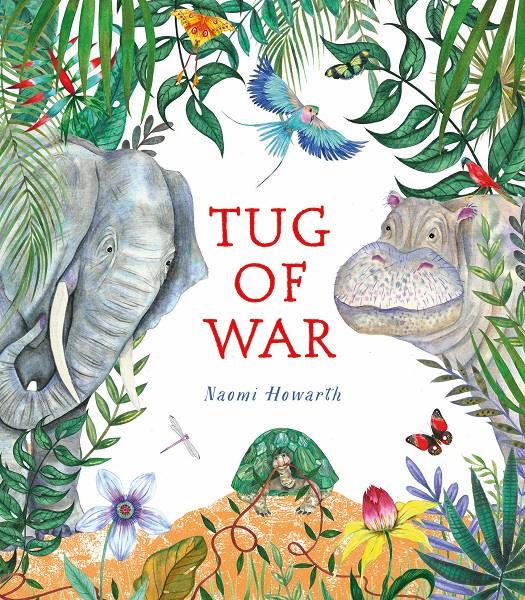 Naomi Howarth, Tug of War,  Frances Lincoln/Murdoch Books,  August 2017,  32pp.,  $24.99 (hbk),  ISBN 9781847808509
Nearly everyone is aware of the resourceful tortoise in the Aesop fable, The Hare and the Tortoise. Here we have an equally clever tortoise pitting his wits against two very large bullies, an elephant and a hippopotamus.
It is a glorious day and Tortoise sets off to make new friends. Elephant is not interested. In fact, he is rude and insulting, calling Tortoise a 'small, stupid old tortoise'. Hippo adds insult to injury with 'you are nothing more than a small, wrinkly old tortoise'. Poor Tortoise is most upset, crawling under some undergrowth and shedding a tear. Bird, who looks like a cassowary, tells him that he is brainy and can teach those two bullies a lesson. Sure enough, that's what Tortoise does but I won't spoil the book by telling you how.
The illustrations are as equally accomplished as the plot. Exuberant, beautifully coloured jungle scenes decorate every page plus the endpapers and the animals' facial expressions add to the drama. This is a most attractive and appealing picture book with a moral tale to tell without being the slightest bit preachy. Naomi Howarth's previous picture book, The Crow's Tale, (her first book) was nominated for the Kate Greenaway medal and shortlisted for the Waterstone's Children's Book Prize in the UK. This is a worthy successor.
Reviewed by Lynne Babbage