Robin Stevens, Top Marks for Murder (A Murder Most Unladylike Mystery #8), Puffin Books, August 2019, 375 pp., RRP $16.99 (pbk), ISBN 9780241348383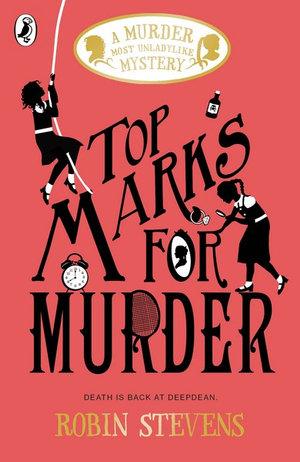 Top Marks for Murder is the eighth in the A Murder Most Unladylike Mystery series, which has been described as a cross between Agatha Christie and Enid Blyton. Set at Deepdean Boarding School for Girls in country England, Top Marks for Murder is, as noted by Hazel Wong, the almost 15-year-old Detective Society Vice-President and Secretary,
"an account of: The Case of the Anniversary Weekend Murder…begun Saturday 4th July 1936".
Hazel and her best friend, Daisy Wells, who is President of the Wells & Wong Detective Society, are now experienced detectives, having solved cases both at school and abroad. However, murder is the last thing on their minds as the school busily prepares for the Anniversary Weekend, where parents have been invited to celebrate 50 years since the opening of Deepdean.
With a music concert on Friday night, exhibition tennis matches and a gala dinner for the 'Big Girls', staff and parents on Saturday and a garden party on Sunday afternoon, the whole school is abuzz, and the term flies by, until, on the very day that the Anniversary celebrations begin, Rebecca 'Beanie' Martineau, detective society member and fellow fourth former gazes out of the dorm window, and utters in shock "I – I think I've just seen a murder!"
From this point on, Top Marks for Murder picks up the pace. With a list of suspects to investigate, and the discovery of several intriguing clues, "long buried rivalries and secrets begin to surface" and the girls work together to solve a mystery that threatens the future of the school. Their investigations holding even more weight with the realisation that this event could close the school, and the girls could lose the home that they all love so dearly.
Robin Stevens has captured the magic of the traditional school story, with midnight feasts and dormitory high-jinks, and threads this through an engaging and unpredictable murder mystery. The 1936 setting means that mobile phones and social media make no appearance, and the story is refreshing in the way the girls relate to each other and solve the mystery with good old-fashioned deduction, rather than relying on technological wizardry.
Fans of Harry Potter may find the boarding school setting appealing, and mystery readers will love the twists and turns before the final reveal. Top Marks for Murder is good fun reading, and despite the grisly topic of murder, it is cleverly written without gore or violence. The novel is broken into seven parts, and each part into short, sharp chapters, which create reading goals for less able readers. This also offers terrific cliff hangers at which to pause if reading aloud. This series, and the latest volume would be well placed in any upper primary or lower secondary school library, and will be sought by readers, particularly girls, aged from 11-14.
Reviewed by Kay Oddone