Davina Bell (text) and Allison Colpoys (illustrator), Tomorrow is a Brand-New Day, Scribble Books, November 2021, 32 pp., RRP $24.99 (hbk), ISBN 9781925849462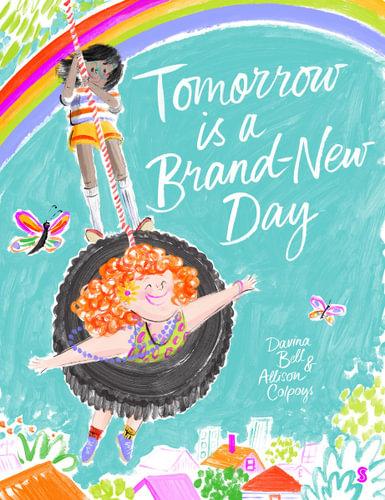 Davina Bell (author) and Allison Colpoys (illustrator) have teamed up again to produce a second exceptional picture book which looks like being another award winner for them.
This book is called Tomorrow is a Brand-New Day and it conveys a relatable and validating message that strong feelings of anger, frustration, disappointment, and shame are universal but temporary experiences and regretted actions can be corrected with a "brand-new day" and a return to calmer emotions.
The text takes the form of a poem in rhyming couplets, with a satisfying, bouncy rhythm. Each word seems carefully chosen, not only for authentic rhythm, but also to reference a wide range of emotions and to promote a sense of playfulness and a tone of acceptance, warmth, and love.
From the beautiful endpapers consisting of brightly coloured, bold strokes of interweaving swirls, to the detailed illustrations in a variety of bright and fluorescent colours, the images seem to bounce off the page. The vibrancy of the illustrations reflects the intensity of strong emotions as well as the characters' energy, exuberance and spontaneity. The illustrations also support the text well by depicting strong emotions with animated facial expressions and body language and setting the backdrop context.
The book comes to a concluding climax with a fantastical, glittery illustration against a contrasting outer space black sky and the re-assuring words that no matter what happens It doesn't change the stars above. It doesn't change that you are loved.
Tomorrow is a Brand-New Day will engage 3-6 year olds with its appealing, vibrant illustrations and relatable message.
Reviewed by Barbara Swartz