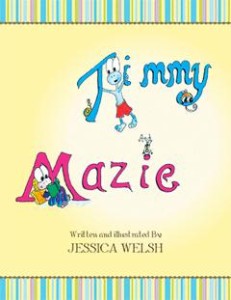 Jessica, WELSH (text) Timmy and Mazie Xlibris, 2013 unpaged US$25.00 pbk ISBN 9781483696003
Timmy and Mazie have many interests.  Timmy likes climbing and playing outdoors.  His sister Mazie likes the colours of the bright flowers she finds outside.  Mazie likes to read about adventures but Timmy likes to participate in them.  In spite of the differences they enjoy each other's company.
Told in large text, the story is brief and straightforward but will ring true for many children.  It could lead to comfortable discussions about comparisons, contrasts and similarities.  Also the illustrations have the accessibility that could be derived when an imaginative family member draws the black line pictures and colours them in soft pencils as directed or helped by some children.  It is an unpretentious book with positive messages about family.
reviewed by Elspeth Cameron