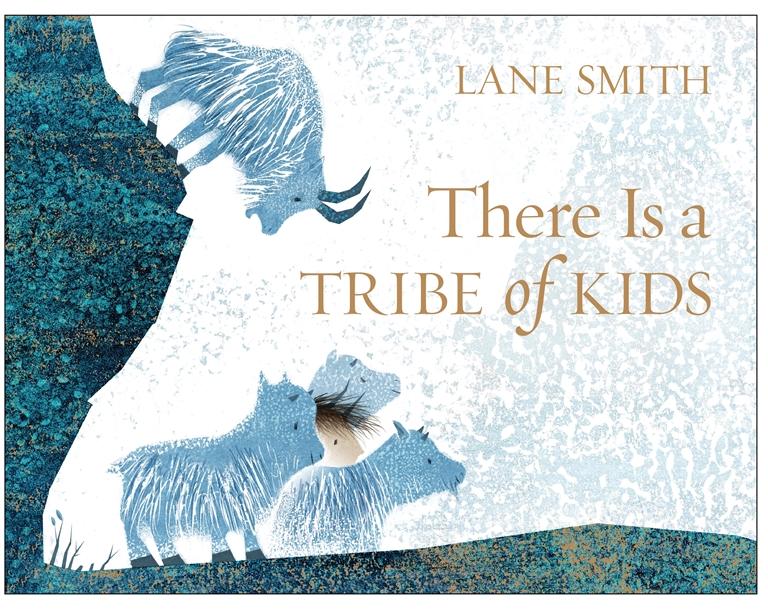 Lane Smith, There is a Tribe of Kids, Pan Macmillan Australia, 26 April 2016, 32pp., $24.99, (hbk) ISBN 9781509812882
On first impressions one might think this is a picture book about the Three Billy Goats Gruff, but fans of Lane Smith know better to assume before exploring his creations. A small boy dressed in an outfit of green leaves follows some goats, 'a tribe of kids', to find 'a colony of penguins'. The visual narrative then follows the boy as he comes across various groups of animals, named by their collective nouns, and geographical features, such as rocks and shells. Smith makes use of the names of some animals, for example, the band of gorillas and the boy are playing instruments made from the jungle. As the boy makes his way through the world he finally comes to another tribe of kids, this time more like himself than goats.
The sparse language works brilliantly with the exquisite visual images. Smith painted the illustrations in oil and then sprayed an acrylic varnish to create a variety of mottled textures. Coloured pencils and graphite were also used as well as traditional and digital cut and paste. The effect is superbly unique. The use of direction, colour and frames add to the visual effects. For example, while the boy is travelling along with the turn of turtles, the reader must slowly follow the five rectangular panels of illustrations on the landscape-oriented page. There are various ways of reading the book. On another page the order of the small, separate vignette images of caterpillar and boy alternate, encouraging the reader to ask if the boy is imitating the caterpillar, or the caterpillar is imitating the boy.
This is not just a book that young readers and viewers can be absorbed in, but also one for adults studying picture books with postmodern tendencies. This one ticks many characteristics and requires much re-reading. I cannot recommend this highly enough, I absolutely love it.
Reviewed by Liz Derouet