Melanie La'Brooy , The Wintrish Girl, (Talismans of Fate #1), University of Queensland Press, August 2022, 448 pp., RRP $17.99 (pbk), ISBN 9780702265631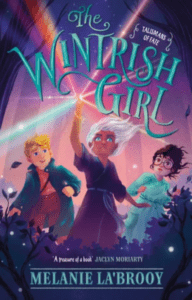 Penn is a servant and an outcast. The people of Arylia see her cursed white hair and know that she is a Wintrish girl from the Province of Midwinter, a useless 'Slumweed', there only to serve and do as they command.  Penn's life is mapped out for her, she is destined to take over mixing grotesque potions for the grumpy old Goody, who is the only other Wintrish person in Arylia Penn can talk to.
But on Talisman Day, where Arylian children receive a special object that gives them powers, Penn's fate turns. Three events occur that lead her on a dangerous rescue mission. She mixes the wrong ingredients into a potion and inadvertently puts everyone to sleep, she is unexpectedly called to receive a talisman and a dreaded Night Hag kidnaps the Princess of Arylia. So ensues a breathtakingly dangerous adventure where Penn befriends a dragon, travels a lavafall, is hunted by Scavengers and Night Hags and joins forces with bookworm Juniper and gleefully oblivious Arthur, to save the Princess.
This story is an absolute page-turner. La'Brooy has created a world that draws readers in and leaves us wanting more of the magic. She has skillfully made use of common fantasy tropes that are comforting to a fantasy fan. But these do not take away from the mystery of who is behind the mayhem that has been caused. La'Brooy subtly points fingers at a variety of suspect characters but readers are left guessing right until the very end when the villain is revealed. Then, as a masterful twist, the reader is enticed to sympathise with the felon.
Comic relief is scattered throughout the novel, with Arthur, a unique out-of-towner providing most of the folly. What is most refreshingly humourous is La'Brooy's play on words throughout, particularly the repeated idea that words are anachronistic, unnecessary in the modern world of Arylian magic; or her use of acronyms that cause delightfully confusing asides (L.I.E – Look, Imagination, Elbows)!
Character development is progressive and strong and is coupled with the growth of relationships. Penn, who is isolated and alone in the beginning, finds herself surrounded by friends and family. Old relationships are repaired and new ones discovered. She becomes wise to the idea that fate and destiny are nothing more than what one makes for themselves. She reflects on the difficulty of truly following this notion because, 'it's easier to spend your whole life being someone a Marvelous Casket says you are…' rather than discovering it for yourself.
I highly recommend this novel to any lover of fantasy. It is on par with the likes of the Harry Potter and Nevermore series. I eagerly await the next installment.
Reviewed by Katie Mineeff