Adrian Beck (text) and James Hart (illustrator), The Unfunny Bunny, Penguin Random House Australia, March 2022, 24 pp., RRP $17.99 (hbk), ISBN 9781761043093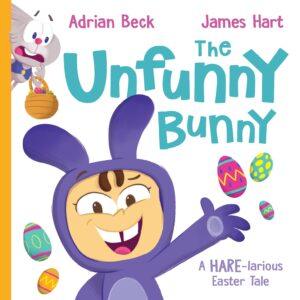 This is another addition to the Easter library. A wet Easter at the beach house and a young girl decides to help the Easter bunny distribute the eggs to the family. The style used is similar to 'Twas the Night before Christmas and we learn that Easter jokes are the best! Plus, the fam says I'm funny … "I'll make their egg-hunt a LAUGH as your Helper Bunny!" And from here there are puns and laughs as the eggs are hidden in unexpected (unegg-spected) places. But Bunny isn't entirely amused and wants her helper's silly sayings to stop. So, all the hidden eggs are collected, ready for the family to enjoy their eggs together, but the book finishes with one more corny joke.
The vibrantly coloured illustrations create recognisable family members and celebrate each one's interests and idiosyncrasies. Young readers will enjoy the eggs on the end papers and the caricatures. There is sure to be family discussions about some of the puns used throughout.
Reviewed by Maureen Mann