Peppa Pig, My Peppa Adventure, Penguin Random House, February 2022, 32 pp., RRP $14.99 (pbk), ISBN 9780241543498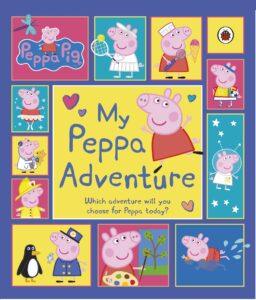 This is a book that just keeps on giving. Every time it is read is a new story and adventure, with each page asking children to make choices for their adventure with Peppa. Where will you go? How will you get there? Who will come along? What will you wear? What will you eat? What will you do?
Look at the pictures on each page, and choose your favourite ones to tell your own stories! 
This style of book is a fantastic conversation starter and could lead to many discussions. Each page includes different elements to encourage choice, exploration, and self expression.
Which adventure will you choose for Peppa today? 
Reviewed by Raquel Mayman