Bruce Whateley, The Ugliest Dog in the World (30th Anniversary edition), HarperCollins Publishers, January 2022, 32 pp., RRP $19.99 (hbk), ISBN 9781460761533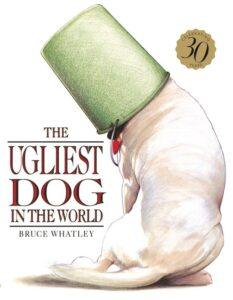 What happens when you are the only one who thinks your dog is beautiful?
A little girl has just that problem.
Everyone who crosses paths with her dog thinks it is the ugliest dog in the world – mum, dad, Auntie Nellie and even the local butcher thinks she is most unattractive!
An entertaining story of a little girl and her love for her dog will touch a lot of hearts, The Ugliest Dog in the World highlights that beauty really is in the eye of the beholder. The boxer dog is not known for its good looks and makes for a very funny premise when it is shown through the eyes of others, or maybe even as themselves!
Heart-warming and funny, it touches on the relationship young children have with their pets and themes of unconditional love and friendship.
Bruce Whatley's pencil illustrations take a front seat and will have little readers in stitches at every page turn. The fun of doggy dress ups is captured to perfection and taken to another hilarious level. The text is minimal and easy to read, allowing the illustrations to shine in all its humour.
This is a 30th Anniversary edition celebrating a classic picture book first published in 1992. For readers who love dogs and funny stories this is one sure to amuse the next generation in the classroom, library, or home.
Reviewed by Shelley Stephens