Martin Chatterton, The Tell, Penguin Random House Australia, April 2020, 288 pp., RRP $16.99 (pbk), ISBN 9781760895945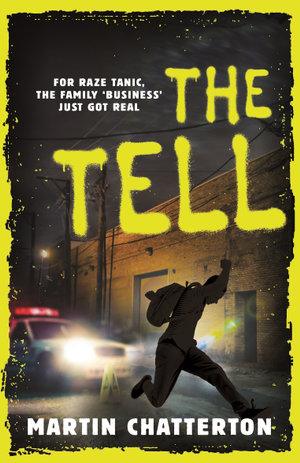 The Tell is a gritty yet thoughtful novel balancing equally a fast-paced thriller with a coming-of-age story. While it's sure to lure in readers of Muchamore and Reilly with tense chase scenes and danger at every turn, it's also going to challenge them with strong ethical questions.
Protagonist Raze is forced to question his identity. Is he his father's son? Can he become a figure in his father's crime consortium, and still look himself in the mirror every day? He fears not. And then if that's the case, will he be given the opportunity to become someone else? Something more? These moral dilemmas follow Raze around while he tries to navigate family expectations, avoid police scrutiny, and not draw the attention of his father's enemy, another criminal family syndicate.
Characterisation is strong and realistic. Raze's best friends – Somalian born Ids and Candy the daughter of a police inspector – are loyal and trustworthy while they too suffer personal injustices. Raze's brother Solo, is a difficult character to cheer on, but his love for Raze makes that possible. Warning, there is a dog, Mac, and in a book like this,t be wary of falling for him too hard.
The narrative moves forward at a determined and immersive pace. The climax, set in Martin Place right in the heart of Sydney is explosive, and the final chapters, open yet satisfying. Chatterton has produced a novel that shares the best of Australian young adult writing – a strong narrative, a thumping heart at its core, and a main character full of resilience and hope.
Reviewed by Trish Buckley
Read an article about The Tell (and more) from author Martin Chatterton here.