Barbro Lindgren (text) and Eva Eriksson (illustrator), The Tale of the Tiny Man, Gecko Press, February 2022, 36 pp.  RRP $27.99 (hbk), ISBN 9781776574094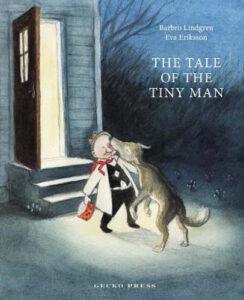 A little man sits on his steps. He is lonely and longs for a friend with whom he can laugh, talk and play.
One day he decides to do something about it.
The Tale of the Tiny Man is a beautifully written Swedish picture book that pulls at the heartstrings. At the centre of the story is a man who longs for friendship and connection. While the story is sad it is also hopeful as it draws the reader in, rallying for the man in his quest to find companionship. Highlighting the uniqueness of human beings in all their abilities, it is a story that compels us to consider the vulnerable in our communities.
With central themes of loneliness, friendship and hope, young readers can relate as they embark on new adventures at school or in the world. Making friends can be one of the hardest things for young children but can be so fulfilling when it happens.
Barbro Lindgren touches on the very human need to connect showing a longing that is heartbreaking. Her timeless text combines effortlessly with the moody illustrations by Eva Ericksson, capturing the yearning and melancholy of a tiny man with a big heart.
Parents, teachers, and librarians will find the reading experience utterly rewarding with plenty of opportunity to discuss individuality and the beauty of friendship and connection.
A classic story with a happy ending, The Tale of the Tiny Man celebrates our differences and our unique ability to connect with others.
Reviewed by Shelley Stephens