Helen Milroy, The Sweetest Egg of All, Magabala Books, February 2022, 72 pp., RRP $22.99 (pbk), ISBN 9781922613080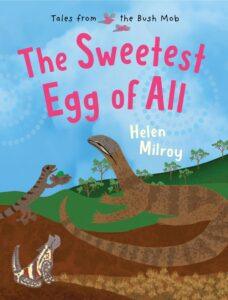 Gecko and Thorny Devil have the best of intentions when they plan a birthday surprise for their friend Bungarra. However, good intentions don't always lead to the best outcomes as the two discover. In their quest for the perfect present (the sweetest egg of all) they upset Willy Wagtail, and the Bush Mob need to come together to find a solution – a solution that means Willy Wagtail is happy and Bungarra will receive a sweet birthday surprise after all.
This book is the third of the Tales from the Bush Mob series. The Tales describe the adventures of a group of anthropomorphic Australian animals including the gecko, thorny devil, echidna, scrubby toad kangaroo and, the 'villain' in this book, the King (George) brown snake – he is really a king brown but added George to make himself sound more regal. There are cane toads too, but they are interlopers and are a little like the stoats and weasels in Wind in the Willows – living apart from the other animals in a slightly sinister area of the bush and needing a concerted effort by the others to overcome them.
An extended picture book, The Sweetest Egg of All is divided into chapters that can be read separately. The illustrations appear on every page and are vibrant and colourful, reflecting the colours of the Australian outback. Each creature has a distinct personality – some kind and good and some less so. Bad behaviour is punished, kindness is rewarded, and the animals work together to help each other. Gecko and Thorny Devil learn an important lesson and the creatures all come together at the end to celebrate Bungarra's birthday.
This is a perfect read-aloud book as well as being suitable for newly independent readers and showcases some of Australia's unique and iconic animals.
Reviewed by Margot Hillel