Lucy Cousins, A Good Place, Walker Books, March 2022, 40 pp., RRP $25.99 (hbk), ISBN 9781529501254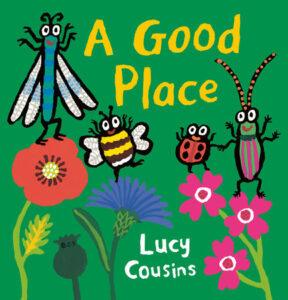 Not a Maisy in sight in this colourful new picture book from Lucy Cousins. Four insect friends in the city are looking for a good place to live but they all have different needs. Bee needs flowers, Ladybird needs leaves, for Beetle it is dead wood while Dragonfly wants a pond. But their search is hampered by their urban environment with people and vehicles causing dangerous situations.
Eventually a friendly butterfly leads them to a wonderful place where all their needs are met and the boy who lives there and looks after it loves to encourage insects. It is a beautiful garden shown in all its glory on a double-page spread. It is also shown again on the final endpaper with our cheery insect friends having taken up residence.
Lucy Cousins' distinctive bright artwork is on full display here and admirably suits the subject matter. Page backgrounds vary in colour depending on the situation so the opening endpaper and the pages featuring footpaths and roads are duller than the glorious garden settings.
This is an attractive, appealing picture book for young readers with a subliminal message about encouraging wildlife into our gardens.
Reviewed by Lynne Babbage