sydney khoo, The spider and her demons, Penguin Australia, August 2023, 368 pp., RRP $19.99 (pbk) ISBN 9781761047572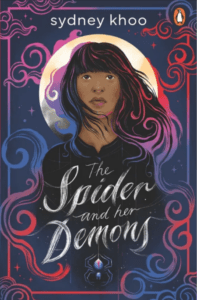 On the surface, Zhi is just an average teenager stressing about the woes of high school. But she has a secret; one that may cost Zhi her life if anybody finds out about it.
Zhi is a spider demon. She has spider legs and extra eyes that she must cover up if she wishes to live a normal life. Nobody else except for her strict aunt knows. And Dior Panne-Nix, the most popular girl in school. And a man who threatens to tell the entire world. Suddenly, Zhi's future is in danger.
With Dior by her side, she is led on a journey of discovering that she is more than the demon inside of her. And that she may not be the only one who has secrets…
The spider and her demons is an excellent novel that perfectly intertwines themes of friendship, family, and finding a sense of belonging. It highlights the fact that true friends love you regardless of your flaws and mistakes, which is a very important message. Zhi is in a constant battle of accepting herself, a challenge which rings true with most teenagers trying to find a sense of where they are in the world and who they are. Zhi learns to look past the demon, and to the person she truly is inside.
The small incorporation of Cantonese and French in the book are also very interesting, as they develop the different characters' cultures and create a more authentic storyline.
This novel is recommended for ages 12+ due to its dark themes. Teacher notes are available at the publisher's website.
Reviewed by Emily Woolnough