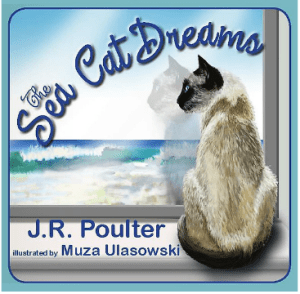 J.R. Poulter (text), Muza Ulasowski (illustrations), The Sea Cat Dreams, Tate Publishing, 11 February 2014, $19.99(pbk), 34pp., ISBN 9781625639127
The Sea Cat Dreams was written as a resource for children and adults to assist in their positive accommodation to challenging life changes. It embraces topics including adapting to moving house, treasuring fond memories, dealing with loss, and seeking and sharing support with loved ones.
Written in simple poetic prose, the story tells of a cat transitioning from home to home; first loved by a family on a farm, then accidentally taken aboard a ship via a sailor's bag, and finally relocated to the widow of the very same fisherman who tragically disappears at sea. Death and grief are shown through evocative images of a teary cat and an obviously devasted woman. But although heartbroken, the feline adopts courage and resilience; basking in its happy memories, and in its safe and comfortable new surroundings.
This is an earnest, yet gentle story that follows the cat on its journey; a mixture of unsettled, disheartening, and nostalgic moments. The digitally illustrated images include a mixture of textures with cool colour hues.
The Sea Cat Dreams has the potential for use in bibliotherapy with families adjusting to traumatic experiences.
reviewed by Romi Sharp