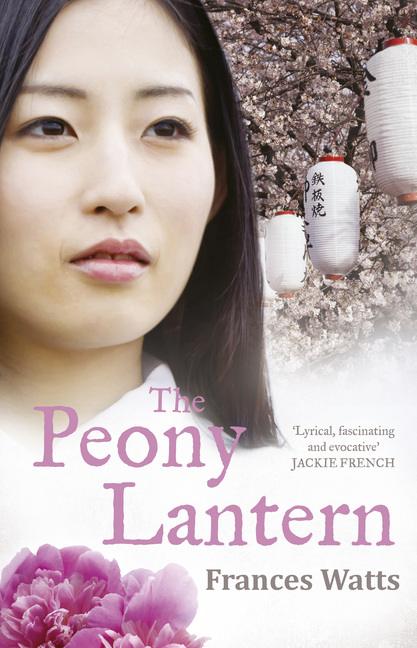 Frances Watts,  The Peony Lantern,  ABC Books/HarperCollins,  20 July 2015,  304pp.,  $16.99 (pbk), ISBN 978 0 7333 3292 0
During the early years of the nineteenth century, following the Meiji Restoration, Japan was at the crossroads. After many years of isolation, the Emperor believed that his country should open its doors to foreign trade. There were opposing forces who wished Japan to remain closed in order to preserve its unique culture. Watts has shaped her story of a fifteen-year-old girl, Kasumi, against these conflicting forces.
Kasumi is the second daughter of the keeper of a small inn in a regional village. Her outspoken style is of concern to her traditional family, so her father jumps at the chance to send her off to serve the wife of a powerful man from the warrior class, a samurai. In the big city of Edo, Kasumi finds Misaki, her master's wife, lonely and nervous. Soon the two young women develop affection and trust in each other. But all is not how it seems. Kasumi is afraid that Misaki is in love with another man, Isamu, whom Kasumi also admires. And there are attempts on the life of her master Lord Shimizu, and on her own.
Watts's novel leads the reader into the closed world of upper-class Japan. Women are second-class citizens, bravery and honour are virtues placed above all others, art is noble, and divergence from the culture, such as marrying out of one's class, can be punished by death. But there is also great joy to be found in some traditions, and as Kasumi discovers the world outside her childhood she realises that there is a way forward for her beyond marriage.
Watts writes with sympathy and appreciation of Japan and the Japanese people. Her strongly delineated characters and lyrical descriptions of place inform a book which will engage the thoughtful reader.
A Teaching Guide can be found on the HarperCollins website.
Reviewed by Stella Lees