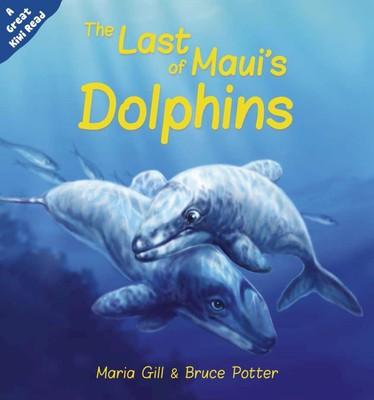 GILL, Maria (text) Bruce Potter (illus.) The Last of Maui's Dolphins New Holland, 2014 unpaged NZ$19.99 pbk ISBN 9781869664107 
There is enormous pleasure in joining a dolphin-watching tourist boat and experiencing first hand (sometimes) the possibility of swimming with the dolphins.  There are many stories of extraordinary life-changing encounters with a species of animal that are both intelligent and show empathy.  But humans have not always been kind to the marine world, and through setting nets, trawling and ignorance, fishermen, young folk and even tourists have caused great harm to this species.  They are endangered, with the Maui (and Hector) dolphin an especially vulnerable sub-species.
This is a fictional story of Hiriwa (a young male dolphin) who is told never to go near the dark shapes in the water (boats).  He keeps his promise to his mother and his aunties but when new friendships develop with a fish, a penguin and a squid (a bit of anthropomorphism here), and his friends are caught in a net, Hiriwa must do something.  This dolphin is empathetic and intelligent; he uses a mussel shell as a tool and a display as a distraction!  His plan works!
At the end of the story is a double-page spread that gives factual information about Maui dolphins and the problems of set-net trawling for the species.  The aim is clearly to create empathy and so there are ideas about how to help the marine eco-system, as well as some useful websites.  Both the writer and illustrator are (inter)national award winners in their respective fields who are environmentalists at heart.  Recommended.  JMcK