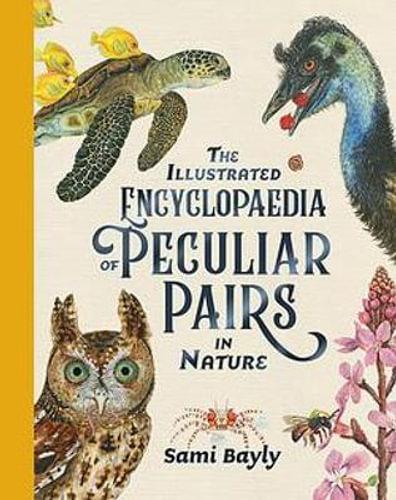 Following the award-winning The Illustrated Encyclopaedia of Ugly Animals and The Illustrated Encyclopedia of Dangerous Animals, natural history illustrator and author Sami Bayly explores the most unlikely animal partnerships in The Illustrated Encyclopaedia of Peculiar Pairs in Nature.
Each double-page introduces readers to a peculiar pair, with a description of physical characteristics, conservation status, diet, location/habitat, and fun facts. It's easy to become absorbed by the stories of how two different species connect. Bayly's superb watercolour illustrations are classical and artistic, providing new insight into the features of animals and plants from Australia and the world.
The pairings include the bizarre fish whose hobby is cleaning the mouth of larger fish, a mind-controlling parasite that interacts with a cat and rat, and a teeny tiny tick that needs a tiny marsupial to survive.
This third illustrated encyclopedia is another joy to hold and explore, full of unusual examples of natural relationships. Aimed at children seven and above, The Illustrated Encyclopedia of Peculiar Pairs in Nature is a simply a brilliant and beautiful celebration of biodiversity.
Teachers Resources are available on the publisher's website.
Reviewed by Angela Brown