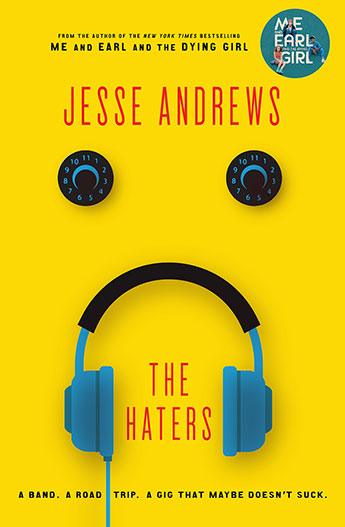 Jesse Andrews, The Haters, Allen & Unwin,  April 2016,  336pp.,  $19.99 (pbk),  ISBN: 9781760291891
Jesse Andrews was the author of the highly-successful and very moving Me and Earl and the Dying Girl which was also made into a film. This is his second novel and is rather different from the first. In this one too, the protagonist and his 'side-kick' are teenage boys, but these two are introduced to us in a music camp where they are surrounded by what they call 'dudes' – until, that is, they meet someone who isn't a 'dude' – a girl. Feisty and defiant and 'do my-own-thing' Ash intrigues both Corey and Wes. They find she is older than they are, knows all about sushi and has a car at camp. When her behaviour gets her expelled from camp, she invites the boys to join her for a road trip.
The book is strong in its characterisation and is full of fast-paced dialogue. Ultimately all three teenagers are collected by their parents and there are consequences for all of them for their actions in taking the trip, using the car without permission and not informing their parents of their whereabouts. However, I would suggest this book needs to be used with some caution and should be read by teachers and librarians before giving to young readers. It contains a great deal of 'strong language' (the boys use swearing as a normal part of their conversation), explicit drug use and irresponsible sex.
Reviewed by Margot Hillel