Paula Boer, The Bloodwolf War (Equinora Chronicles #1), Andersen Press, November 2019, 276 pp.,, RRP $26.99 (pbk), ISBN 9781925956146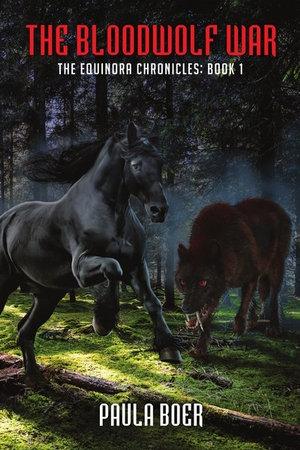 The Bloodwolf War: The Equinora Chronicles Book 1 by Paula Boer is a coming-of-age equine fantasy novel. Set in Equinora, a beautiful land created by a horse goddess, The Bloodwolf War is a tale of a young horse named Fleet, who goes on an epic quest. Ages before Fleet was born, the goddess attempted to create herself a mate. Her attempts were failures and instead, she created six guardian unicorns and one evil duocorn, Shadow, whom the goddess banished before she departed back to the Spirit World. Now Shadow has returned and the once beautiful Equinora is under threat. It is up to Fleet to complete his quest to save Equinora from total destruction.
Author Paula Boer has written several novels about horses and her passion for all things equine is clear. The majority of characters are horses and her descriptions of their physical behaviours are detailed and nuanced. Horse lovers will enjoy the unique use of the story being told primarily from the horses' points of view. Non-horse fans may struggle to connect with the horse characters. The brutal male-dominated world further disconnected me from the story as did the immaturity of the constantly bickering characters.  
The story reaches a resolution though leaves the path clear for the second book in the series. While not my preferred style of fantasy, equine enthusiasts may enjoy this story with its themes of love, lust, magic, duty and courage.
Reviewed by Fiona Miller-Stevens