Alison Binks, The Artist, Berbay Publishing, March 2020, 32 pp., RRP $26.99 (hbk), ISBN 9780648397380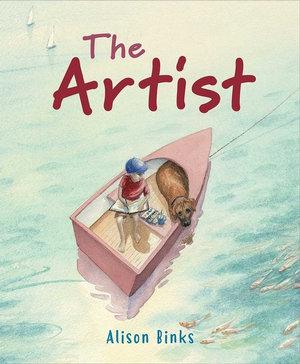 The Artist is a wonderfully slow-paced, lovingly depicted portrait of a young artist who lives alone on his boat. He is visited by his grandmother, spends time with his friend The Storyteller, sails a small boat and goes off to piano lessons. Most of his time, however, is spent observing the world around him and painting it.
This book celebrates the quiet yet fulfilling life of an artist, his relationship to his environment and his desire to paint. Binks' words are assured and find a balance between dreamy imagery and a simplicity that grounds the text. Her watercolour illustrations are wonderful portrayals of both the artist's environment, and his own watercolours.
Art teachers could use this book to help begin a discussion about what it means to be an artist – especially through discussion of quotes such as, '…looks hard at the shadows and light around him. Looking out more than he looks down at his page…' and '…somehow he's hoping to gather the feeling of the water and the wind, and put it onto his page…' How does an artist put a feeling on a page? Why is he looking more out than down? These are questions that artists need to consider, and this book is a wonderful conversation starter.  
Reviewed by Madeleine Crofts