Dhana Fox (text) and Anna Demchenko (illustrator), Stud, Larrikin House, May 2021, 32 pp., RRP $24.99 (hbk), ISBN 9781922503114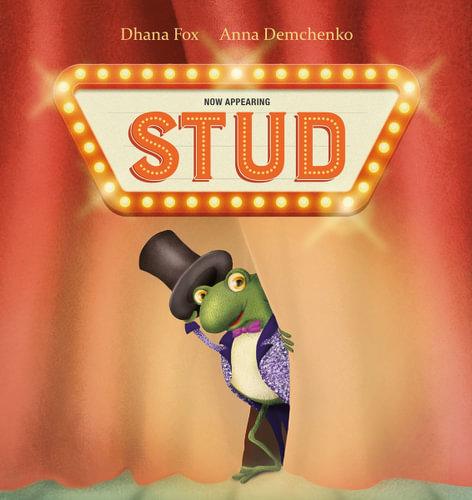 Fickelton Farm is in for a treat!
When Stud the toad arrives on the peaceful farm, he is larger than life. He simply is Stud, and he's simply the best.
The other animals are not so sure he fits in – what use can he be, if he cannot be milked? Our croaky friend decides to put on a show, but will his efforts to prove his warty worth win over the rest?
A delightful picture book, Stud shows the beauty of not quite fitting in, and the importance of self-belief. Parents, teachers and librarians will enjoy reading and exploring themes of acceptance, persistence, and the gift of second chances.
Anna Demchenko's fun and colourful illustrations jump off the page and capture Stud's expressive character, as he desperately tries to charm the rest of the farm.
The clever use of rhyming text throughout will have young children coming back again and again.
Dhana Fox has a created a lovable and unforgettable character, who oozes confidence from every amphibian pore. Stud the toad's energy is infectious and will endear readers as they follow his hysterical antics.
A far cry from your typical Aussie cane toad representation, there is a lot to love about Stud and his centrefold!
For readers aged 3+ years. HIGHLY RECOMMENDED
Reviewed by Shelley Stephens