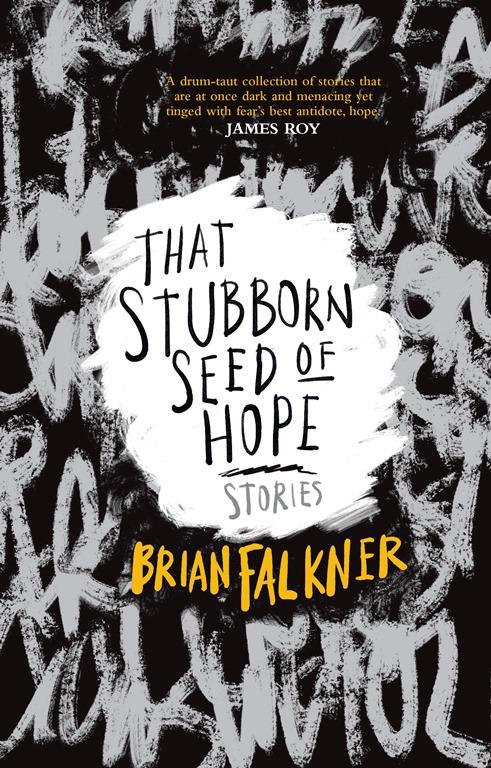 Brain Falkner, That Stubborn Seed of Hope,  University of Queensland Press, 7 July 2017,  224pp.,  $19.95 (pbk),  ISBN: 9780702259692
Fear comes in many varieties and Brian Falkner pins down each nuance with skill in ten intense short stories.
Each unique story is written so that we are observing and feeling empathy for every character's torment. In Strawberry Lou we read about several fears, fear of dying, fear of losing a loved one and also fear of rejection. In Sins and Griefs we watch as Richard decides that the fear of embarrassment outweighs the fear of dying. But the last short story, Stop Reading, You Die, is one where the reader participates, in fear for his own life. As you read you keep asking yourself, Can this be true? Will I die if I stop reading? I am confident that most readers will admit to a small amount of trepidation as the story concludes, fearing death is imminent yet hanging on to a small hope that the author is just having fun. In Brain Falkner's own words:
'we can endure almost anything in our lives as long as there remains that stubborn seed of hope'.
These stories should be picked up by teachers of creative writing as examples of how to package a story so that they resonate and linger in the reader's mind. Each distinctive work is well crafted, with vivid settings, excellent character development, subtle emotional build up and unexpected twists in the plot. Students 14yrs+ will enjoy Brian Falkner's writing style, the achievable length of each read and will relate to the themes in each story.
Brian Falkner is an author with multiple awards for both junior and youth fiction. His books are included in the NSW Premier's Reading Challenge and he delivers presentations including Storysports and Write like an author workshops developed for use in schools to make writing fun. He currently lives in Queensland, Australia
Teachers' Notes for That Stubborn Seed of Hope are available from the UQP website.
Visit Brian Falkner's website for more information about the author.
Reviewed by Sharon Smith