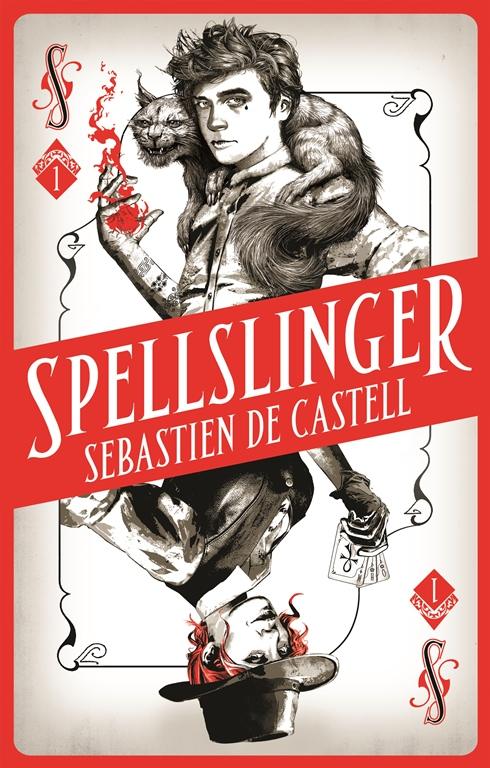 Sebastien de Castell, Spellslinger (Spellslinger #1),  Hot Key Books/Allen & Unwin, May 2017,  396pp.,  $19.99 (pbk),  ISBN 9781471406119
Only truth can defeat magic, as sixteen-year-old Kellen learns from Ferius when she comes into his life. Kellen is about to undergo tests that will determine whether he will follow in the family's footsteps and become a mage, or whether he will merely be a servant for the rest of his life. He knows that he will not pass the tests, but he still undertakes them, in hope.  Catastrophe follows, as does a squirrel-cat called Reichis. Kellen begins to unravel the complex history and contemporary machinations which have brought his people, the Jan Tep, and his family, to this point.
de Castell has created a world of rival clans, nasty behaviour, magic spells and physical violence, but there is also an air of decency and negotiation. Surely the latter will prevail. The descriptions of the spells are detailed and seem unnecessarily so, but they do add colour to the story. Characterisation is excellent. Kellen is a decent lad, confused by the world; Ferius is a sardonic and no-nonsense sophisticate; Reichis is a calculating and blood-thirsty animal.
Spellslinger takes to heart the tradition of a number of volumes to make a series. This, the first, is a long book and there are many unfinished leads, people who have more to say, and an overall unfinished story. It is all worth sticking to, so look out for book 2, Shadowblack.
Reviewed by Stella Lees