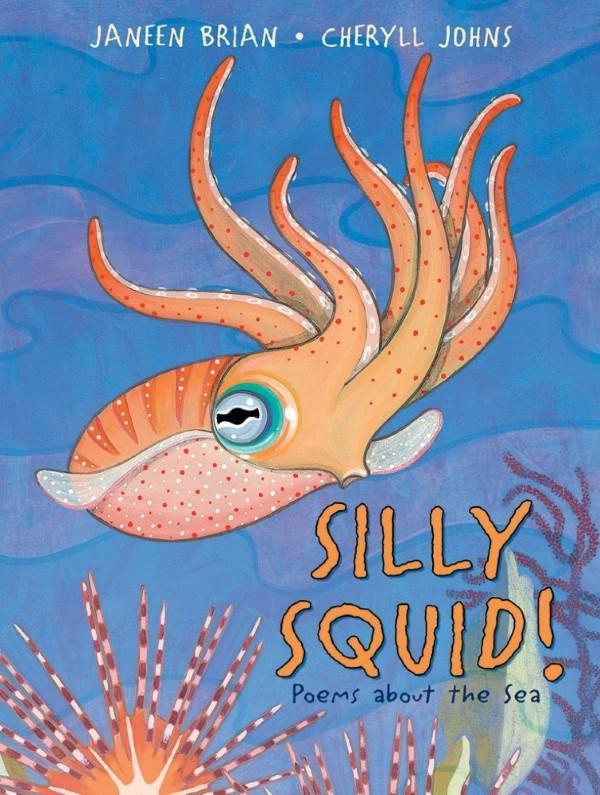 Janeen Brian (text),  Cheryll Johns (illus.) Silly Squid: poems about the sea,  Scholastic,  1 June 2015,  32pp.,  $24.99 (hbk),  ISBN 9781742990965
Any child captivated by ocean going creatures will enjoy discovering these animals of the deep sea through Janeen Brian's short form poetry, combined with delightful full colour illustrations depicting each animal.
Combining facts with the poetic prose, each animal is given ample limelight and the addition of non-fiction facts will satisfy trivia-loving children.
Whilst popular sea creatures such as the octopus, starfish and shark are featured, the author has ensured some lesser known sea creatures are introduced including, the sea urchin, limpet and the mudskipper.
Whilst the interesting facts are a welcome addition to the poetic text, I can't help feeling that the facts have been added as an afterthought. They have been scripted in small, plain text on the edge of the pages. I feel a more creative treatment of the text would have added to the playfulness of the book.
Despite this, the book is easy to read in one sitting or piece by piece, making it ideal for short attention spans. With its combination of rhythmic text and non-fiction facts, this title would be an ideal support for classroom discussions and projects around ocean animals.  Teacher's Notes are available on the Scholastic website.
Janeen Brian is an award winning author of numerous children's books including the CBCA Early Childhood Honour Book 2014 I'm a Dirty Dinosaur.
reviewed by Kerri Bennett