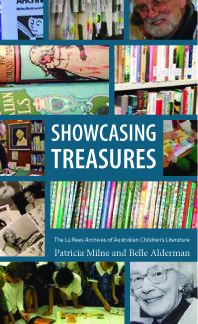 MILNE, Patricia, ALDERMAN, Belle, Showcasing Treasures, Lu Rees Archive of Australian Children's Literature, 2014, $30.00, 96pp, ISBN 9780992443603
Lu Rees Archive is a national treasure. Situated on the campus of the University of Canberra, it houses an astounding array of material which documents the history of Australian Children's literature. It includes original manuscripts, original artwork, examples of foreign language versions of books, picture books, novels, audio books and many other types of publications. The documents it holds, catalogues and preserves include many priceless artefacts, such as original sketches and drafts with notes between authors, illustrators and publishers still attached. This archive is an amazing resource for students and researchers who come to explore the treasure trove, to pore over its treasures.
Showcasing Treasures documents the origins of the archive, its growth and operation as it exists today. It details the history of the archive, which was started and developed by the amazing Lu Rees. It talks about the effforts to grow and house the collection which is now of gargantuan poportions. The book discusses the importance of the archive from many angles, such as its importance to academia, the publishing industry, emerging authors and artists, cultural bodies and, most importantly, to preserve the cultural heritage which is resident within the manuscripts and documents it holds.
The book is written with passion and verve by Patricia Milne and Belle Alderman AM, who themselves are heavily involved in the archive. Belle Alderman is the director of the archives and one of the key drivers behind its growth and success.
Showcasing Treasures is a fantastic book about one of the great cultural gems in Australia.  Available from http://www.canberra.edu.au/lurees/merchandise
reviewed by David Murphy