Tran, Trang Thanh, She is a Haunting, Bloomsbury, April 2023, 352 pp., RRP $17.99 (pbk), ISBN 9781526657084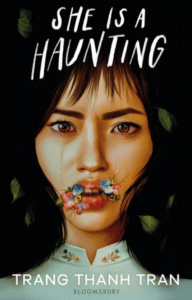 There's power in never being known because no one can use you against you.
Jade Nguyễn has struck a deal with her estranged father: spend the summer holidays with him in Vietnam and he will pay her university fees. He's doing up a rundown French colonial house, preparing it to become an up-market bed and breakfast. So Jade and her younger sister Lily find themselves roped into helping him with the renovations.
It's not long before Jade senses that things are not so normal about this house. Dead bugs appear each morning on her windowsill, she starts to suffer from sleep paralysis and Jade is soon confronted by not one, but two ghosts, one of whom does not have her best interests at heart.
Tran brings a lot of issues to the table in this book: ancestral trauma, the impact of colonialism, abandonment, and the struggle to find 'home'. However, I feel she has tried to address too many themes, and horror was not the right choice of genre. Even the horror did not feel suitably horrific, although there is a sudden shift of tone at the conclusion of the book where I felt transposed into a modern-day slasher film.
There are a number of sentences that left me confused: 'You don't need to worry,' Ba says eventually, removing a dropper from his pocket and squeezing tears into his eyes.' Or how about a ghost, reaching into Jade's body 'driving deeper than a broken underwire bra' for an interesting analogy? Or seeing a beautiful view, and wanting to 'drain that beautiful sky through a fat straw'?
This is Tran's debut novel, and some of these issues can be excused by inexperience, but I was totally baffled by the constant reference to hydrangeas. In my experience, a hydrangea is a bush, not a vine, but these hydrangeas seem to have a life of their own, climbing the crumbling walls. There are 74 references to hydrangeas – are they a metaphor for something?
Ultimately, She is a Haunting left me disappointed. I feel there are the bones here of a good YA novel dealing with acceptance, dislocation and finding home, seen from the perspective of a queer Viet-American, but the novel left me wanting more.
Hopefully, Tran's next book will see her grow in confidence together with a clearer vision.
Reviewed by Gaby Meares