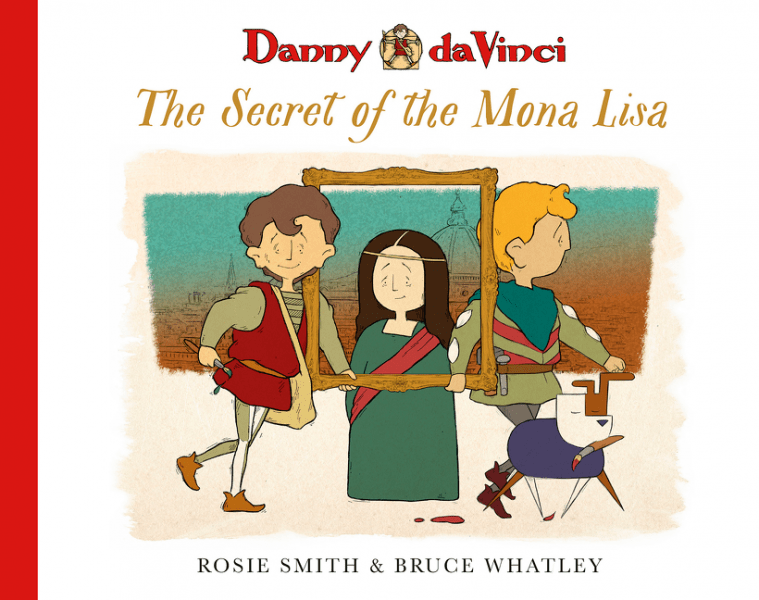 Rosie Smith (text),  Bruce Whatley (illus.),  The Secret of the Mona Lisa (Danny da Vinci #3), ABC Books/HarperCollins Australia,  24 July 2017,  32pp.,  $24.99 (hbk),  ISBN: 9780733326059
Popular wife-and-husband co-creators, Rosie Smith and Bruce Whatley have produced a charming introduction to the work of Leonardo da Vinci by playing upon the pompous foibles of art patrons in the fifteenth century.  They devote much of their illustrated book to actual reproductions of drawings by Michelangelo and da Vinci, and introduce yet another ugly dog to their oeuvre.
Their amusing story centres on Leonardo's production of Mona Lisa's mysterious smile, and along the way there are lessons on how hard artists work to perfect their skills, and how tricky it can be to do this while also producing work that is somehow genuine, authentic, and deeply human. Of course Smith and Whatley don't waste time on preaching these lessons when there is much more fun to be had in making silly drawings and poking fun at self-importance. Recommended for 5 to 25 year olds.
A Teaching Guide can be found on the HarperCollins Australia website.
Reviewed by Kevin Brophy