Peter H Reynolds, Say Something, Scholastic Australia, March 2019, 32 pp., RRP $24.99 (hbk), ISBN 9781760664992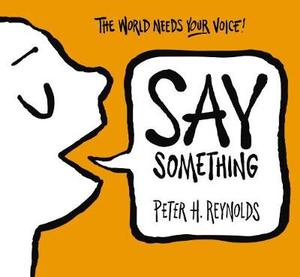 Author Peter H. Reynolds delivers an effective and strong message through his book, Say Something. With simple yet colourful illustrations children are encouraged to embrace their voice and express themselves through actions, words and creative opportunities.
Whether it's saying something to be brave, or to express an idea; everyone has the ability and right to say something. Plant a seed, inspire others, impact change, challenge, connect – the voice makes it all possible and while others may express their voice differently to you, 'everyone has something to say'.
This book is a motivating and inspiring tool which empowers the reader to find their voice and speak from the heart. It is simple yet so powerful!
Reviewed by Raquel Mayman