Sung Mi Kim, Say Hello?, Berbay Publishing, April 2022, 44 pp., RRP $25.99 (hbk), ISBN 9781922610461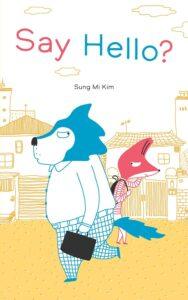 Say Hello? by Sung Mi Kim takes a light-hearted look at what happens when you miss a chance to be cordial. Translated from Korean this thoughtful and funny title is sure to become a firm favourite.
Characters Little Fox and Mr Wolf become neighbours. Due to their own personal circumstances they choose not to greet each other, to "say hello", during their first encounter. Next comes misunderstanding followed by awkwardness and more awkwardness.
Adult readers are sure to be able to relate to the scenario. For young readers this book provides a great opportunity to look at the impact of people's actions in a non-didactic and curious manner.
The striking illustrations and bold colour choices add layer upon layer to this already rich title without detracting from the story and its message.
With the review copy the publishers supplied information explaining their procedure and motivation for choosing this title for translation. It is evident that a well thought out and conscientious approach has led to the production of a high quality picture book with great appeal.
Recommended for readers aged 3+ years.
Reviewed by Anne Varnes