Leigh Bardago, Rule of Wolves (King of Scars, #2), Hachette Children's Books, April 2021, 528 pp., RRP $19.99 (pbk), ISBN 9781510109186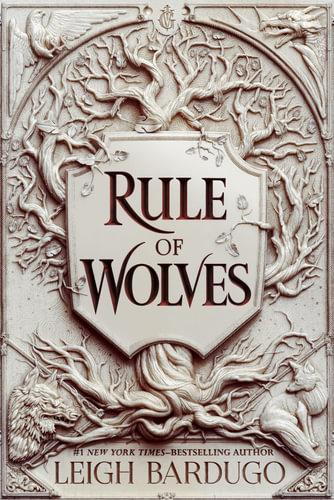 Rules of Wolves is the second and final book in the King of Scars series, part of the GrishaVerse collection, created by popular fantasy novelist, Leigh Bardugo. In similar fashion to the Shadowhunter novels, Bardugo is developing a number of different series in the same universe, which follow different characters, although they all pop up in each other's books. With the success of the Siege and Storm adaptation on Netflix earlier this year, these books have grown more popular, and I am sure there will be more.
Rule of Wolves follows three main characters: King Nikolai Lantsev, his general Zoya Nazyalensky, and their spy Nina Zenik as they try to avoid war enveloping to their country Ravka (a Russain inspired land). Ravka is squeezed between two powerful and war-hungry countries, Fjerda and Shu Han (the map is a thing of beauty), and it requires all Nicholai's charm, Zoya's strategy and Nina's subterfuge to stay ahead of the politicking, the betrayals and the scheming of the immortal Darkling.
Sigh. Of course, there is an immortal villain.
Across three countries, these three points of view introduce many characters and events. Often, we leave one person on a cliff-hanger and move to another, which means readers are forced to jump around the plot threads. While this may annoy some, most lovers of fantasy novels are attuned to this type of storytelling, and it means the tension is constantly high and the twists and turns can be conveniently delayed.
We are familiar with all these characters as they have appeared in the Siege and Storm and Six of Crow series, and only people who have read at least King of Scars, book 1 will have the patience and pleasure to immerse themselves in the 500 pages of this book. While the action is intense and exciting, we still have the quiet moments, the times of reflection and the secret hope that love may be found between the scenes of death and grief. We are given opportunities to consider the futility of war, the machinations of government and bureaucracy, and the realisation that peace is possible if those in power wish to seek it.
The final chapters are highly satisfying and it's not surprising that the final words set up the prospect of another adventure for the Crow Club Crew (who are my favourite! So yay!).
Reviewed by Trish Buckley