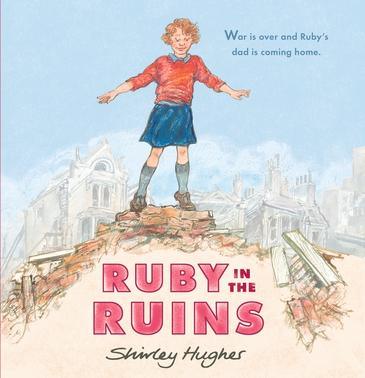 Shirley Hughes, Ruby in the Ruins, Walker Books Australia, 1 April 2018, 32pp., $27.99 (hbk),  ISBN: 9781406375893
Shirley Hughes's books have a timeless, comforting quality and always come with the assurance that her subjects and themes will be handled with grace and sensitivity. Hughes's books are also hugely appealing and engaging.
This beautifully illustrated instant-classic explores the life of a child in London, during and shortly after the Blitz.
Ruby's dad has gone to war. While many other families in the area have been evacuated, Ruby's mother is determined to stay in the family home in case Ruby's father comes home on leave. Together, mother and daughter weather the terror of the blitz, huddling in bed or hiding in the 'crowded, smelly air raid shelter'.
The second act of Ruby's story comes when the 'joyful day of victory' arrives. A glorious double-page spread depicts a street party where Union Jacks fly and children enjoy a feast of cakes, sandwiches and 'even chocolate biscuits!'
Neighbourhood dads begins to arrive home, and soon, so does Ruby's. While her mother is overjoyed, Ruby is unexpectedly shy around her father; a 'big sunburned man' who is different from the father she remembers. Ruby has trouble adjusting to life at home with her father – it has just been Ruby and her mother for the longest time – and there is a distance between father and daughter.
When Ruby and some neighbourhood boys sneak into a nearby bomb site to explore and Ruby trips and hurts herself, it is her father who swiftly arrives to comfort her and take her home. Instead of scolding her, as Ruby expects, her father is gentle, kind and understanding, and the bond between the two is lovingly restored.
Shirley Hughes's trademark illustrations wonderfully evoke this unique time and place in history, as well as the emotions experienced by the characters; from fear and devastation to joy and relief. This wonderful book works as both a snapshot of London during the War, and an intimate portrait of a young girl and her family.
Reviewed by Melinda Allan